Become a ukulele soloist this Christmas and learn a beautiful, intricate-sounding Christmas song played in the style of solo fingerpicking.
In this lesson, taken from the Solo Fingerstyle Christmas Songs course from the brand new Club Ukulele, you learn a chord melody or solo fingerstyle rendition of Away In a Manger.
To play this song, you combine the chords and melody at the same time.
There's so much to learn!
In the following video, take a listen to Away In a Manger now.
For the next video, I give you some tricks for learning this song and play the song counted slowly, so you can see exactly what my fingers are doing.
Before that though, you'll want to download the ukulele tab.
Download the ukulele tab and sheet music for Away In a Manger.
If you don't know how to read ukulele tab, don't worry. It's easy to learn with this lesson here.
In the style of solo fingerstyle (sometimes called chord melody or solo fingerpicking), you fingerpick and strum the melody and chords of the song to play a solo piece.
In the music, down strums are indicated by a squiggly up arrow, as indicated in the following figure. Use the thumb to strum down across the strings.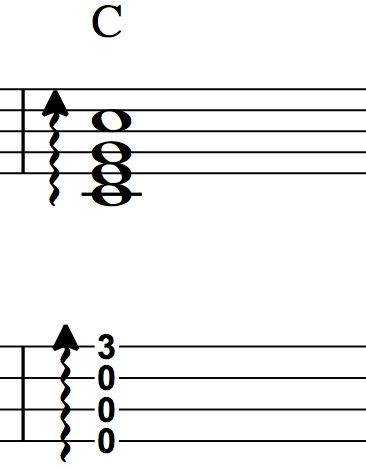 Up strums are indicated by a squiggly down arrow in the ukulele tab, as indicated in the following figure. Use the flesh-side of the index finger to strum up across the strings.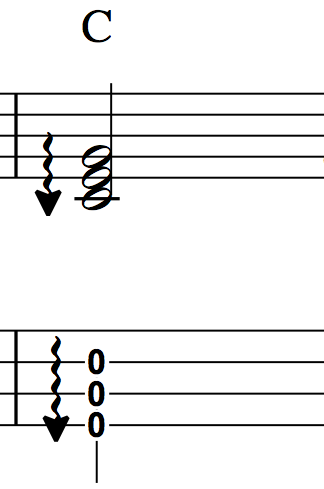 Three Steps To Learning Solo Fingerstyle Songs
There are three steps to learning a solo fingerstyle piece like this one.
Step 1: Study the Sheet Music
The first step is to look over the sheet music and ukulele tab for the song. You might take out a pencil to make notes. Pay specific attention to the chords required to play the song. See if there are any repeated sections. Identify where on the fretboard most of the song is played. These are some of the things you want to look for.
Step 2: Divide the Song Into Small Sections
The second step is to divide the song up into small sections and practice the song a section at a time. What you often find with solo fingerstyle pieces like this one is that they take longer to learn than a song you'd normally strum. This is why it's important to break up the piece into small four to eight measure chunks. This makes learning the song more fun and rewarding!
Step 3: Play Through the Song In One Sitting
Once you can play through each section of the song, then, it's just a matter of playing through the song in one sitting. It's okay if you make mistakes. As you play through, you might find that one part in the song will require some more practice. That's quite alright. Go slow at first and you're sure to see success!
Get the Full Lesson and More at Club Ukulele
Don't stop here.
There's so much more to learn in the Solo Fingerstyle Christmas Songs course.
You get this course and several more courses when you join Club Ukulele. Club Ukulele is a monthly membership where you get fresh new ukulele lessons each month all for you to go at your own pace.
Why don't you join me?
Experience the joy of playing ukulele. Fresh new easy-to-follow, step-by-step video lessons delivered to you monthly for you to go at your own pace.