There's so much fun to be had playing country and bluegrass songs on the ukulele.
In this lesson, sampled from the Country & Bluegrass Strummin' course from the brand new Club Ukulele, you learn an upbeat rhythmic country and bluegrass strum that you use to learn a famous song called Billy Boy.
Are you ready?
In the style of country and bluegrass, it's all about the Boom-Chicka rhythm.

For the boom-chicka rhythm, I recommend using a combination of fingers from the strumming hand. For the first beat, pluck or strum down across the top g-string with the thumb, as indicated by the "t". Then, on the second beat, strum down across all strings with the nail-side of the middle and ring fingers. Then, on the "and" of the second beat, strum up across all string with the flesh-side of the index finger. Repeat this for the third and fourth beats.
Practice this rhythm slow at first and gradually speed it up.
Remember…
Don't speed it up if it hurts! Stay loose and relaxed.
As you begin to speed up, the rhythm begins to take on an exciting, energetic toe-tappin' strumming rhythm!
Now, take the "boom-chicka" strum and learn to play a song. First, take a listen to a performance of the song you're going to learn called Billy Boy.
The first step to learn Billy Boy is to learn the chords for this song.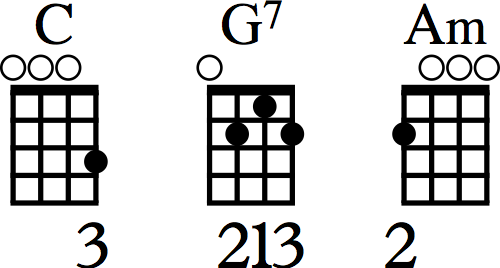 The next step is to make sure you've got that strumming rhythm down.

The last step is to strum through the song's chord progression without singing. Don't forget to start at a slow tempo first and count out loud. Once you can play it slower, then, begin to speed it up.
Download the sheet music and chord chart for Billy Boy.
Watch the video to learn more.
When you put it all together, you have a nice rendition of Billy Boy played in a country and bluegrass style.
You're well on your way to being able to play in the country and bluegrass style!
Get the Full Lesson and More at Club Ukulele
Don't stop here.
There's so much more to learn in the Country & Bluegrass Strummin' course.
You get this course and several more courses when you join Club Ukulele. Club Ukulele is a monthly membership where you get fresh new ukulele lessons each month all for you to go at your own pace.
Why don't you join me?
Experience the joy of playing ukulele. Fresh new easy-to-follow, step-by-step video lessons delivered to you monthly for you to go at your own pace.